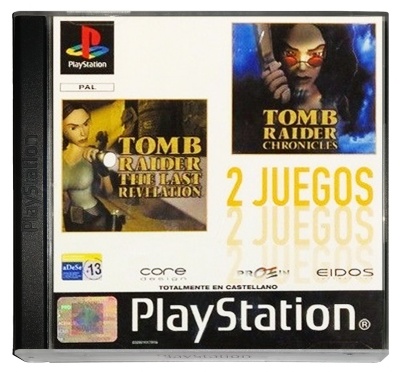 2 Games: Tomb Raider: The Last Revelation + Tomb Raider: Chronicles - Playstation
PS1-2GTRLTRC
2 Games: Tomb Raider: The Last Revelation + Tomb Raider: Chronicles - Playstation
This twin pack includes:
Tomb Raider: The Last Revelation
Tomb Raider Chronicles

Tomb Raider III:
Tomb Raider: The Last Revelation:
'He will be the shadow across the sun; the bringer of plagues, his wrath will consume all lands and will be ceaseless!' Ancient Egyptian Legend tells of how the evil God Set was outwitted and imprisoned in a secret tomb and warns that he will one day return to seek vengeance. While exploring in Egypt, Lara Croft discovers the lost tomb and unwittingly unleashes its ancient evil, fulfilling the prophecy that threatens to plunge mankind into eternal darkness. In a race against time, Lara must use all her wit and skill to re-imprison Set and save the world from Armageddon. Pursued by a mysterious rival and deadly supernatural forces, Lara embarks on a journey of discovery across Egypt, where she must overcome the most ingenious puzzles and infernal traps ever devised, to face terrifying evil from beyond the grave. With more twists and turns than an Egyptian labyrinth, this is a heart stopping action-adventure. A Tomb Raider that truly offers... The Last Revelation!

Tomb Raider Chronicles
HER LEGACY LIVES ON
In light of Lara's recent disappearance, those closest to her gather together at the Croft Estate on a gray, rainy day for a memorial service in her honor. Afterwards, the friends sit quietly together in the study of the Croft Mansion and provide new insights about Lara's past exploits that have until now remained a secret...
Four new adventures take you from the rooftops of a high tech city to the bowels of a German U-Boat.
Utilize new moves to overcome obstacles: tightrope walking, parallel bar swinging, and a hand-to-hand stealth attack.
Choose from an arsenal of weapons including a grappling hook gun, sniper rifle, and chloroform.
Enhanced inventor system for greater combinations of weapons and accessories.
Search through files, drawers, and shelves for useful inventory items.
Black Label Edition
Where multiple versions were released, this may be the Big Box version, standard original black label, or classics / value / best of range, regardless of the image. It will NOT be the platinum version. If you require a particular version, please contact us before purchasing, as we are not always able to guarantee a particular version.
Buy 2 Games: Tomb Raider: The Last Revelation + Tomb Raider: Chronicles - Playstation now from Fully Retro. Shipping to Australia and New Zealand.
| | |
| --- | --- |
| Name: | 2 Games: Tomb Raider: The Last Revelation + Tomb Raider: Chronicles - Playstation |
| Released: | 2003 |
| Genre: | Action |
| Players: | 1 |
| Ratings: | MA15+ (Mature Audiences, 15 and Over) |
| Format: | PAL |
| Languages: | Spanish |
| Developer: | Core Design |
| Publisher: | Eidos Interactive |
Covid-19 update
We're still open for business as usual, and shipping games out to you in these difficult times. Given the global lockdowns, there are understandably delays in items being received. Whilst we have not yet revised dispatch / delivery estimates whilst we learn more about the impact that Covid-19 is having on postal services. In the meantime, we would ask that you are as patient as possible, and understand that we are doing everything we can to get your items out to you as soon as humanly possible.
Stay safe and keep gaming! :)
Free Shipping
Shipping is free on all games throughout Australia and New Zealand.
Destinations
All items can be shipped throughout Australia and New Zealand, and to the rest of the world. Please add items to your basket to see your delivery charge if you are outside of Australia or New Zealand.
Dispatch Times
Items are dispatched within 3 working days unless otherwise stated. Your estimated dispatch date will be shown at checkout. Some items may be in stock at our supplier and require a transfer to our dispatch centre before being sent, these will all have a later estimated dispatch date shown in your basket and on your order confirmation. Please note that these dates are estimated, and whilst we always aim to meet and often exceed these dates, there will be the occasional item that is dispatched slightly later than the estimate.
Shipping Times
Shipping times are approximately 14 days to Australia and New Zealand.
Shipping Internationally is as follows:
Europe: 7-10 days
Rest of the World: 14 days
Delivery Costs
Delivery costs vary by item, but as standard to Australia are:
Games: FREE
Accessories: FREE
Consoles: FREE
Handheld Consoles: FREE
Delayed or missing items
If you have not received your item within the timeframe estimated on your dispatch confirmation, please contact us, and we will be happy to look into this for you. There can be delays caused by weather, holidays, and postal and customs backlogs. These are thankfully fairly uncommon, but please do not be alarmed if your item is a little late. On the incredibly rare occasion that an item is found to be lost, a replacement will be provided.
Please ensure that you check your delivery address before buying. We cannot be held responsible for lost items where an incorrect address has been provided.
Returns
If you are unsatisfied with any of the items received (which we hope, due to our high standards, would never happen) please let us know within 7 days of receipt, as we can usually offer a replacement.
Please ensure that you do contact us first for a return authorisation code, as returns will not be accepted without this.