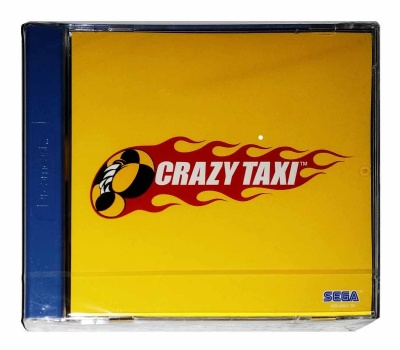 Crazy Taxi (New & Sealed) - Dreamcast
SDC-CRAZYTNS
Crazy Taxi (New & Sealed) - Dreamcast
Crazy Taxi is an arcade-like racer where the player takes the role of a taxi driver who weaves his way through crowded streets, across sidewalks and even under water, in a wild and frantic race to deliver passengers on time. The courses are largely set inside cities crowded with general traffic and pedestrians (which can't be run over, they dive away). The main goal is to bring as many customers as possible to their destination in time. Available customers are marked through circles and the colour represents the distance and the fare they offer. Green means long rides with plenty of money, and red ones are very short.

In the main Arcade mode there is a timer that quickly runs down. It can be replenished by picking up customers. While driving reckless maneuvers are encouraged. Players can disregard all traffic rules and customers give extra tips for speedy and dangerous driving, but these can only be cashed when the customer arrives at his destination in time. By the same token the reward at the end of a ride is based on the amount of time left, as each customer also has a personal timer. The city is filled with slopes and jumps, and the game uses a very loose driving model. No damage can be done to the car, so driving as fast as possible is encouraged. While driving players can toy with the gears to perform two special tricks: a crazy drift and a crazy boost to speed up more quickly.

Next to the Arcade mode there is an Original mode, and Crazy Box where specific goals need to be met on closed down courses. In the regular modes it is possible to disregard the usual timer and play for a fixed amount of minutes. At the end of the race the player is rewarded with a license, either D, C, B or A, with S for an outstanding performance. Next to the interactive courses from the arcade version there is a new course for home consoles. There are four cabs and drivers to choose from. The cars have different statistics and the drivers different attitudes while racing. The game has a soundtrack featuring The Offspring and Bad Religion (not for the Xbox 360 version).
Buy Crazy Taxi (New & Sealed) - Dreamcast now from Fully Retro. Shipping to Australia and New Zealand.
| | |
| --- | --- |
| Name: | Crazy Taxi (New & Sealed) - Dreamcast |
| Released: | 2000 |
| Genre: | Racing |
| Format: | PAL |
| Languages: | English |
| Developer: | Hitmaker |
| Publisher: | Sega |
Covid-19 update
We're still open for business as usual, and shipping games out to you in these difficult times. Given the global lockdowns, there are understandably delays in items being received. Whilst we have not yet revised dispatch / delivery estimates whilst we learn more about the impact that Covid-19 is having on postal services. In the meantime, we would ask that you are as patient as possible, and understand that we are doing everything we can to get your items out to you as soon as humanly possible.
Stay safe and keep gaming! :)
Free Shipping
Shipping is free on all games throughout Australia and New Zealand.
Destinations
All items can be shipped throughout Australia and New Zealand, and to the rest of the world. Please add items to your basket to see your delivery charge if you are outside of Australia or New Zealand.
Dispatch Times
Items are dispatched within 3 working days unless otherwise stated. Your estimated dispatch date will be shown at checkout. Some items may be in stock at our supplier and require a transfer to our dispatch centre before being sent, these will all have a later estimated dispatch date shown in your basket and on your order confirmation. Please note that these dates are estimated, and whilst we always aim to meet and often exceed these dates, there will be the occasional item that is dispatched slightly later than the estimate.
Shipping Times
Shipping times are approximately 14 days to Australia and New Zealand.
Shipping Internationally is as follows:
Europe: 7-10 days
Rest of the World: 14 days
Delivery Costs
Delivery costs vary by item, but as standard to Australia are:
Games: FREE
Accessories: FREE
Consoles: FREE
Handheld Consoles: FREE
Delayed or missing items
If you have not received your item within the timeframe estimated on your dispatch confirmation, please contact us, and we will be happy to look into this for you. There can be delays caused by weather, holidays, and postal and customs backlogs. These are thankfully fairly uncommon, but please do not be alarmed if your item is a little late. On the incredibly rare occasion that an item is found to be lost, a replacement will be provided.
Please ensure that you check your delivery address before buying. We cannot be held responsible for lost items where an incorrect address has been provided.
Returns
If you are unsatisfied with any of the items received (which we hope, due to our high standards, would never happen) please let us know within 7 days of receipt, as we can usually offer a replacement.
Please ensure that you do contact us first for a return authorisation code, as returns will not be accepted without this.
Stock coming soon