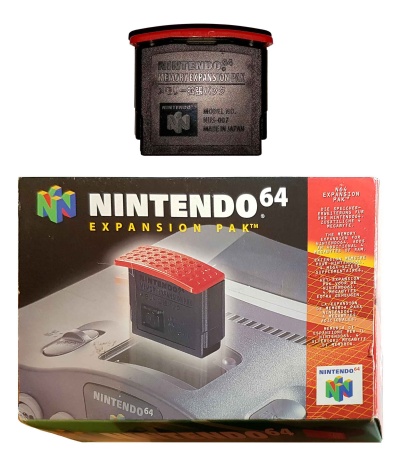 N64 Official Expansion Pak (NUS-007) (Boxed) - N64
N64-EXPANSOB
N64 Official Expansion Pak (NUS-007) (Boxed) - N64
The Official Nintendo Expansion Pak (model number NUS-007) allows the random access memory (RAM) of the Nintendo 64 console to increase from 4 MB to 8 MB of contiguous main memory. Game developers can take advantage of the increased memory in several ways, including making games that are more visually appealing. The add-on was released in 1998 and contains 4 MB RDRAM, the same type of memory used inside the console itself. By increasing system memory, there is potential for enhancements to games designed with the added RAM storage in mind. The Expansion Pak is installed in a port on top of the Nintendo 64 and replaces the pre-installed Jumper Pak, which is simply a RAMBUS terminator. A few games, including Rare's Donkey Kong 64 and Nintendo's The Legend of Zelda: Majora's Mask require it to run. Capcom's Resident Evil 2 used the Expansion Pak for making areas of the game and monsters more detailed. Perfect Dark had limited gameplay options when the Expansion Pak was not present. Supporting games usually offered higher video resolutions or higher textures and/or higher color depth. For example, the Nintendo 64 all-remade version of Quake II features higher color depth but not a higher resolution when using the Expansion Pak. It was used in StarCraft 64 to unlock levels from the popular Brood War add-on for the PC version of the game. Many games such as Castlevania: Legacy of Darkness and Indiana Jones and the Infernal Machine optionally used the Expansion Pak to add a high resolution 640x480 display mode for games, while other games saw the benefit of a smoother frame rate. The Expansion Pak was available separately as well as bundled with Donkey Kong 64.
Buy N64 Official Expansion Pak (NUS-007) (Boxed) - N64 now from Fully Retro. Shipping to Australia and New Zealand.
| | |
| --- | --- |
| Name: | N64 Official Expansion Pak (NUS-007) (Boxed) - N64 |
| Released: | 1998 |
| Format: | ALL |
| Contains: | Expansion Pak Only |
| Developer: | Nintendo |
| Publisher: | Nintendo |
Covid-19 update
We're still open for business as usual, and shipping games out to you in these difficult times. Given the global lockdowns, there are understandably delays in items being received. Whilst we have not yet revised dispatch / delivery estimates whilst we learn more about the impact that Covid-19 is having on postal services. In the meantime, we would ask that you are as patient as possible, and understand that we are doing everything we can to get your items out to you as soon as humanly possible.
Stay safe and keep gaming! :)
Free Shipping
Shipping is free on all games throughout Australia and New Zealand.
Destinations
All items can be shipped throughout Australia and New Zealand, and to the rest of the world. Please add items to your basket to see your delivery charge if you are outside of Australia or New Zealand.
Dispatch Times
Items are dispatched within 3 working days unless otherwise stated. Your estimated dispatch date will be shown at checkout. Some items may be in stock at our supplier and require a transfer to our dispatch centre before being sent, these will all have a later estimated dispatch date shown in your basket and on your order confirmation. Please note that these dates are estimated, and whilst we always aim to meet and often exceed these dates, there will be the occasional item that is dispatched slightly later than the estimate.
Shipping Times
Shipping times are approximately 14 days to Australia and New Zealand.
Shipping Internationally is as follows:
Europe: 7-10 days
Rest of the World: 14 days
Delivery Costs
Delivery costs vary by item, but as standard to Australia are:
Games: FREE
Accessories: FREE
Consoles: FREE
Handheld Consoles: FREE
Delayed or missing items
If you have not received your item within the timeframe estimated on your dispatch confirmation, please contact us, and we will be happy to look into this for you. There can be delays caused by weather, holidays, and postal and customs backlogs. These are thankfully fairly uncommon, but please do not be alarmed if your item is a little late. On the incredibly rare occasion that an item is found to be lost, a replacement will be provided.
Please ensure that you check your delivery address before buying. We cannot be held responsible for lost items where an incorrect address has been provided.
Returns
If you are unsatisfied with any of the items received (which we hope, due to our high standards, would never happen) please let us know within 7 days of receipt, as we can usually offer a replacement.
Please ensure that you do contact us first for a return authorisation code, as returns will not be accepted without this.