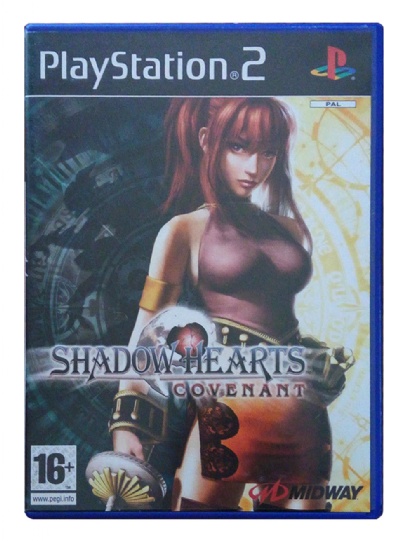 Shadow Hearts: Covenant - Playstation 2
PS2-SHADOWHC
Shadow Hearts: Covenant - Playstation 2
The year is 1915. War has raised its ugly head to greet the nations of Europe. A year and a half after the events described in Shadow Hearts, the French town of Domremy resists German invasion, rumored to be protected by a demon. The German army sends Lieutenant Karin Koenig along with a man named Nicolas, allegedly an inquisitor from the Vatican, whose task is to exorcise the demon. When the two arrive in Domremy, events take an unexpected turn. Karin meets the young harmonixer Yuri Hyuga, who is afflicted with a curse that gradually saps the life out of him. Yuri travels across Europe and through Russia to the Far East, trying to find a cure before it is too late, and stop a secret society from dominating the world by political and magical means.

Shadow Hearts: Covenant is a direct sequel to Shadow Hearts, continuing its story and featuring the same main protagonist as well as a few recurrent characters. Like the previous game, it is set in a concrete historical epoch with heavy supernatural additions. Several historical characters, such as the Russian princess Anastasia, play important roles in the game's plot.

The game's combat system is similar to that of the predecessor: the Judgment Ring adds an arcade element to the turn-based combat, requiring the player to stop a spinning arrow when it passes specific areas of a ring. There are more ring types in the sequel and more possibilities to customize the ring, modifying its areas as well as status-changing properties. The player can select various difficulty levels based on the speed of the arrow and the size of the ring's areas.

The Sanity Points system and Yuri's special ability to transform into monsters and visit the graveyard for more powerful fusion variants have been preserved. Characters can now team up to perform combo attacks of various properties: standard, hard hit, high angle and knock down. Damage dealt to enemies increases when the player continues a combo with fitting attacks, taking into account the weight type of the enemy and the effect different attack types are having on him. As opposed to the first game, magic is obtained by equipping crests of various elemental types. These crests and the magic spells they contain can be swapped between characters.
Buy Shadow Hearts: Covenant - Playstation 2 now from Fully Retro. Shipping to Australia and New Zealand.
| | |
| --- | --- |
| Name: | Shadow Hearts: Covenant - Playstation 2 |
| Released: | 2003 |
| Genre: | Role-Playing Game |
| Players: | 1 |
| Ratings: | MA15+ (Mature Audiences, 15 and Over) |
| Format: | PAL |
| Languages: | English |
| Developer: | Reflections Interactive |
Covid-19 update
We're still open for business as usual, and shipping games out to you in these difficult times. Given the global lockdowns, there are understandably delays in items being received. Whilst we have not yet revised dispatch / delivery estimates whilst we learn more about the impact that Covid-19 is having on postal services. In the meantime, we would ask that you are as patient as possible, and understand that we are doing everything we can to get your items out to you as soon as humanly possible.
Stay safe and keep gaming! :)
Free Shipping
Shipping is free on all games throughout Australia and New Zealand.
Destinations
All items can be shipped throughout Australia and New Zealand, and to the rest of the world. Please add items to your basket to see your delivery charge if you are outside of Australia or New Zealand.
Dispatch Times
Items are dispatched within 3 working days unless otherwise stated. Your estimated dispatch date will be shown at checkout. Some items may be in stock at our supplier and require a transfer to our dispatch centre before being sent, these will all have a later estimated dispatch date shown in your basket and on your order confirmation. Please note that these dates are estimated, and whilst we always aim to meet and often exceed these dates, there will be the occasional item that is dispatched slightly later than the estimate.
Shipping Times
Shipping times are approximately 14 days to Australia and New Zealand.
Shipping Internationally is as follows:
Europe: 7-10 days
Rest of the World: 14 days
Delivery Costs
Delivery costs vary by item, but as standard to Australia are:
Games: FREE
Accessories: FREE
Consoles: FREE
Handheld Consoles: FREE
Delayed or missing items
If you have not received your item within the timeframe estimated on your dispatch confirmation, please contact us, and we will be happy to look into this for you. There can be delays caused by weather, holidays, and postal and customs backlogs. These are thankfully fairly uncommon, but please do not be alarmed if your item is a little late. On the incredibly rare occasion that an item is found to be lost, a replacement will be provided.
Please ensure that you check your delivery address before buying. We cannot be held responsible for lost items where an incorrect address has been provided.
Returns
If you are unsatisfied with any of the items received (which we hope, due to our high standards, would never happen) please let us know within 7 days of receipt, as we can usually offer a replacement.
Please ensure that you do contact us first for a return authorisation code, as returns will not be accepted without this.