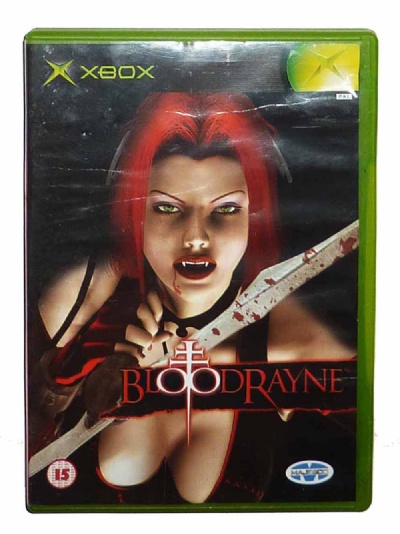 Bloodrayne - XBox
XBOX-BLOODRY1
Bloodrayne - XBox
There are things in the world that humanity should not know about, and things it must be protected from. It is these things that the Brimstone Society hunts, and their newest agent for the cause is the half-vampire codenamed BloodRayne. Her mission will take her from clearing out the walking dead and man-sized insects in the swamps of Louisiana to hunting down members of the secretive Gegengheist Gruppe branch of the Nazi military around the world, as well as the monsters they unwittingly awakened.

Rayne's primary weapons against both monsters and men are the blades attached to her arms, and as the game progresses she will gain additional attacks to string together. Rayne can also hold many weapons, such as pistols, shotguns, and sub machine guns, at once, but she is not overly attached to them and will discard any weapon that runs dry. Her enhanced vampiric strength even allows her to rip up mounted gun emplacements and fire them from the hip. Another vampiric strength is her ability to drain the blood out of any human she can grab in order to restore her health. By killing enemies Rayne's rage meter will fill, eventually allowing her to enter Blood Rage, slowing the world around her and gaining new combo attacks that can dismember or totally cut in half weaker opponents. Rayne's ability to perceive the world will grow as the game progresses as well, allowing her to see living things through walls, zoom in on distant targets, and speed up her perception that everything, herself included, appear to slow down.
Where multiple versions were released, this may be the standard original or classics version, regardless of the image. If you require a particular version, please contact us before purchasing, as we are not always able to guarantee a particular version.
Buy Bloodrayne - XBox now from Fully Retro. Shipping to Australia and New Zealand.
| | |
| --- | --- |
| Name: | Bloodrayne - XBox |
| Released: | 2002 |
| Genre: | Action |
| Format: | PAL |
| Languages: | English |
| Developer: | Terminal Reality |
| Publisher: | Vivendi Games |
Covid-19 update
We're still open for business as usual, and shipping games out to you in these difficult times. Given the global lockdowns, there are understandably delays in items being received. Whilst we have not yet revised dispatch / delivery estimates whilst we learn more about the impact that Covid-19 is having on postal services. In the meantime, we would ask that you are as patient as possible, and understand that we are doing everything we can to get your items out to you as soon as humanly possible.
Stay safe and keep gaming! :)
Free Shipping
Shipping is free on all games throughout Australia and New Zealand.
Destinations
All items can be shipped throughout Australia and New Zealand, and to the rest of the world. Please add items to your basket to see your delivery charge if you are outside of Australia or New Zealand.
Dispatch Times
Items are dispatched within 3 working days unless otherwise stated. Your estimated dispatch date will be shown at checkout. Some items may be in stock at our supplier and require a transfer to our dispatch centre before being sent, these will all have a later estimated dispatch date shown in your basket and on your order confirmation. Please note that these dates are estimated, and whilst we always aim to meet and often exceed these dates, there will be the occasional item that is dispatched slightly later than the estimate.
Shipping Times
Shipping times are approximately 14 days to Australia and New Zealand.
Shipping Internationally is as follows:
Europe: 7-10 days
Rest of the World: 14 days
Delivery Costs
Delivery costs vary by item, but as standard to Australia are:
Games: FREE
Accessories: FREE
Consoles: FREE
Handheld Consoles: FREE
Delayed or missing items
If you have not received your item within the timeframe estimated on your dispatch confirmation, please contact us, and we will be happy to look into this for you. There can be delays caused by weather, holidays, and postal and customs backlogs. These are thankfully fairly uncommon, but please do not be alarmed if your item is a little late. On the incredibly rare occasion that an item is found to be lost, a replacement will be provided.
Please ensure that you check your delivery address before buying. We cannot be held responsible for lost items where an incorrect address has been provided.
Cancelled orders
If you need to cancel an order before it has been sent, please let us know. Note that cancelled orders due to a change of mind are subject to a 5% fee to cover Paypal fees for refunded transactions.
Returns
If you are unsatisfied with any of the items received (which we hope, due to our high standards, would never happen) please let us know within 7 days of receipt, as we can usually offer a replacement.
Please ensure that you do contact us first for a return authorisation code, as returns will not be accepted without this.