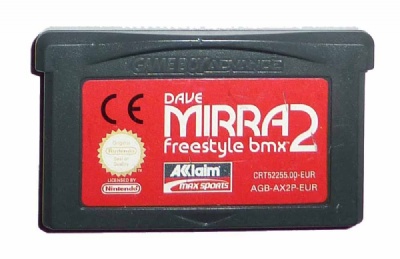 Dave Mirra Freestyle BMX 2 - Game Boy Advance
GBA-DAVEMIR2
Dave Mirra Freestyle BMX 2 - Game Boy Advance
Dave Mirra Freestyle BMX 2, the first game in the series on the Game Boy Advance, is an extreme sports game following the Tony Hawk template.The game features 12 professional BMX riders to choose from, each with their own statistics in speed, spin, balance, bunnyhop, air, and hangtime. Five different selectable bikes augment these stats further.

The game's main mode is called "Proquest". In each level, a variety of goals and challenges must be met within a time limit, netting experience points. These points can be used to increase the rider's stats and they unlock further levels. Challenges include reaching certain high scores, collecting letters and spray cans, and performing specific tricks. Completing the first levels switches the game to Pro, and later, Hardcore mode, increasing the difficulty of the goals in each stage.

All of the six levels (shown in isometric perspective) are filled with half and quarter pipes, ramps, bowls, rails and special objects (a truck, a fountain, a row of boxes) to perform tricks on. Tricks are activated through button combinations. Completing several tricks in a row without bailing increases the rush meter - when filled, it allows the performance of signature moves for each rider.

Two further modes are "Session" and "Freeride" - they allow practicing unlocked levels either with or without the time limit.

Two two-player modes utilizing a single GBA (the players take turns) are also available: In "Full Run", the two players compete for a high score, in "Star Collector" they compete for a best time in finding 10 stars scattered over the levels.
Buy Dave Mirra Freestyle BMX 2 - Game Boy Advance now from Fully Retro. Shipping to Australia and New Zealand.
| | |
| --- | --- |
| Name: | Dave Mirra Freestyle BMX 2 - Game Boy Advance |
| Released: | 2003 |
| Genre: | Sport |
| Format: | PAL |
| Languages: | English |
| Contains: | Cartridge Only |
| Developer: | Reflections Interactive |
| Publisher: | Acclaim |
Free Shipping
Shipping is free on all games throughout Australia and New Zealand.
Destinations
All items can be shipped throughout Australia and New Zealand, and to the rest of the world. Please add items to your basket to see your delivery charge if you are outside of Australia or New Zealand.
Dispatch Times
Items are dispatched within 3 working days unless otherwise stated. Your estimated dispatch date will be shown at checkout. Some items may be in stock at our supplier and require a transfer to our dispatch centre before being sent, these will all have a later estimated dispatch date shown in your basket and on your order confirmation. Please note that these dates are estimated, and whilst we always aim to meet and often exceed these dates, there will be the occasional item that is dispatched slightly later than the estimate.
Shipping Times
Shipping times are approximately 14 days to Australia and New Zealand.
Shipping Internationally is as follows:
Europe: 7-10 days
Rest of the World: 14 days
Delivery Costs
Delivery costs vary by item, but as standard to Australia are:
Games: FREE
Accessories: FREE
Consoles: FREE
Handheld Consoles: FREE
Delayed or missing items
If you have not received your item within the timeframe estimated on your dispatch confirmation, please contact us, and we will be happy to look into this for you. There can be delays caused by weather, holidays, and postal and customs backlogs. These are thankfully fairly uncommon, but please do not be alarmed if your item is a little late. On the incredibly rare occasion that an item is found to be lost, a replacement will be provided.
Please ensure that you check your delivery address before buying. We cannot be held responsible for lost items where an incorrect address has been provided.
Returns
If you are unsatisfied with any of the items received (which we hope, due to our high standards, would never happen) please let us know within 7 days of receipt, as we can usually offer a replacement.
Please ensure that you do contact us first for a return authorisation code, as returns will not be accepted without this.