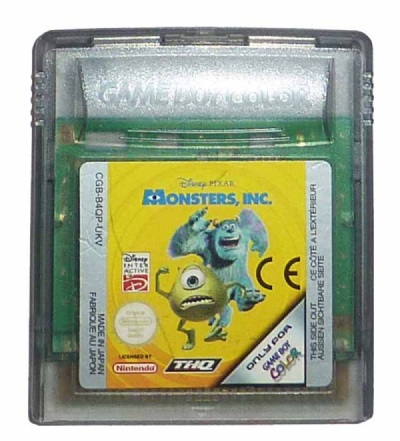 Monsters Inc. - Game Boy
GB-MONSTERS
Monsters Inc. - Game Boy
Monsters, Inc. on the Game Boy Color retells the story of the Pixar film as a side-scrolling platform game. Players control both monstrous stars of the film, Sulley and Mike, across 12 levels.

After a simple tutorial level in Sulley's apartment, the game begins in earnest at the Monsters, Inc. scream factory, and continues through locations from the film, including children's bedrooms, the streets of Monstropolis and the Himalayas. Goals in a level might either be simply finding the exit or alternatively collecting a specific number of items (like Mike's paperwork or the parts of a sled) or performing certain tasks (like scaring five children). To avoid taking damage, Mike and Sulley must take care not to touch either children's toys, or, once they are on the run, other monsters. In later levels, Child Detection Agency agents search for the duo, and their touch means the instant loss of a life.

Some levels dictate which of the two characters is controlled, others leave that choice to the player. Mike and Sulley have different abilities. Sulley can push objects around, climbing on top to reach higher places as well as break through barriers by dashing into them, or hang onto ledges. Mike can double jump and crawl into tight spaces. Both also have different attacks - Mike can throw cans of Blort cola and Sulley can throw toys.

Powerups to be collected are Blort cans, which in addition to being Mike's ammunition function as health - being damaged only means losing a few cans. There are also boxes of Chinese takeout food (collect 10 for an extra life) and teddy bears (instant one up).
Buy Monsters Inc. - Game Boy now from Fully Retro. Shipping to Australia and New Zealand.
| | |
| --- | --- |
| Name: | Monsters Inc. - Game Boy |
| Released: | 2001 |
| Genre: | Action |
| Format: | PAL |
| Languages: | English |
| Contains: | Cartridge Only |
| Developer: | Vicarious Visions |
| Publisher: | THQ |
Covid-19 update
We're still open for business as usual, and shipping games out to you in these difficult times. Given the global lockdowns, there are understandably delays in items being received. Whilst we have not yet revised dispatch / delivery estimates whilst we learn more about the impact that Covid-19 is having on postal services. In the meantime, we would ask that you are as patient as possible, and understand that we are doing everything we can to get your items out to you as soon as humanly possible.
Stay safe and keep gaming! :)
Free Shipping
Shipping is free on all games throughout Australia and New Zealand.
Destinations
All items can be shipped throughout Australia and New Zealand, and to the rest of the world. Please add items to your basket to see your delivery charge if you are outside of Australia or New Zealand.
Dispatch Times
Items are dispatched within 3 working days unless otherwise stated. Your estimated dispatch date will be shown at checkout. Some items may be in stock at our supplier and require a transfer to our dispatch centre before being sent, these will all have a later estimated dispatch date shown in your basket and on your order confirmation. Please note that these dates are estimated, and whilst we always aim to meet and often exceed these dates, there will be the occasional item that is dispatched slightly later than the estimate.
Shipping Times
Shipping times are approximately 14 days to Australia and New Zealand.
Shipping Internationally is as follows:
Europe: 7-10 days
Rest of the World: 14 days
Delivery Costs
Delivery costs vary by item, but as standard to Australia are:
Games: FREE
Accessories: FREE
Consoles: FREE
Handheld Consoles: FREE
Delayed or missing items
If you have not received your item within the timeframe estimated on your dispatch confirmation, please contact us, and we will be happy to look into this for you. There can be delays caused by weather, holidays, and postal and customs backlogs. These are thankfully fairly uncommon, but please do not be alarmed if your item is a little late. On the incredibly rare occasion that an item is found to be lost, a replacement will be provided.
Please ensure that you check your delivery address before buying. We cannot be held responsible for lost items where an incorrect address has been provided.
Cancelled orders
If you need to cancel an order before it has been sent, please let us know. Note that cancelled orders due to a change of mind are subject to a 5% fee to cover Paypal fees for refunded transactions.
Returns
If you are unsatisfied with any of the items received (which we hope, due to our high standards, would never happen) please let us know within 7 days of receipt, as we can usually offer a replacement.
Please ensure that you do contact us first for a return authorisation code, as returns will not be accepted without this.