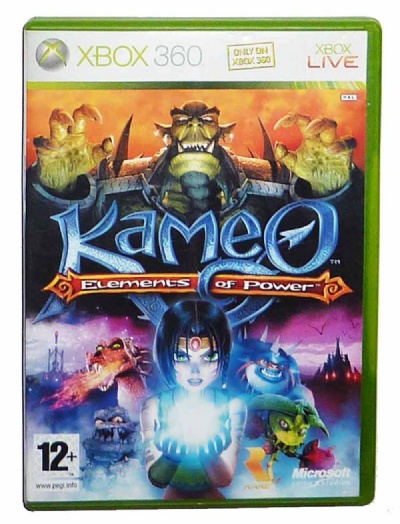 Kameo: Elements of Power - XBox 360
X360-KAMEOELE
Kameo: Elements of Power - XBox 360
Kameo: Elements of Power was one of the Xbox 360 launch games and puts you in the role of the young fairy-like elf Kameo. In the introduction, she storms a castle to rescue her family members, but fails, and loses all her powers. Your task is to collect ten elemental spirits and defeat Thorn, the king of the trolls, along with your evil sister Kalus.

The game mixes action with exploring and basic puzzle-solving tasks. There are four themed areas, with friendly zones where you can shop and talk to the inhabitants. Next to the distinct zones, there are also Badlands to cross, where there is an ongoing battle between elves and trolls. The Enchanted Kingdom is your base, a hub from which you can access the different areas.

By collecting elemental spirits, Kameo can transform into ten different forms, each with their own abilities. Those are acquired by solving quests or defeating boss characters. As you progress in the game, you will need to make use of them to overcome obstacles. Some forms allow you to perform special attacks, link combos, or grant abilities such as swimming (Deep Blue), breathing fire (Ash), shooting torpedoes or use rock-like body parts to engage enemies (Rubble). Each form can be enhanced with different upgrades by collecting hidden pieces of fruit.

During gameplay, you can access a hint book where Ortho offers hints. There is a cooperative mode for two players, both offline and online, and the music was done by an 80 piece orchestra.
Buy Kameo: Elements of Power - XBox 360 now from Fully Retro. Shipping to Australia and New Zealand.
| | |
| --- | --- |
| Name: | Kameo: Elements of Power - XBox 360 |
| Released: | 2005 |
| Genre: | Action |
| Format: | PAL |
| Languages: | English |
| Developer: | Rare |
| Publisher: | Microsoft |
Covid-19 update
We're still open for business as usual, and shipping games out to you in these difficult times. Given the global lockdowns, there are understandably delays in items being received. Whilst we have not yet revised dispatch / delivery estimates whilst we learn more about the impact that Covid-19 is having on postal services. In the meantime, we would ask that you are as patient as possible, and understand that we are doing everything we can to get your items out to you as soon as humanly possible.
Stay safe and keep gaming! :)
Free Shipping
Shipping is free on all games throughout Australia and New Zealand.
Destinations
All items can be shipped throughout Australia and New Zealand, and to the rest of the world. Please add items to your basket to see your delivery charge if you are outside of Australia or New Zealand.
Dispatch Times
Items are dispatched within 3 working days unless otherwise stated. Your estimated dispatch date will be shown at checkout. Some items may be in stock at our supplier and require a transfer to our dispatch centre before being sent, these will all have a later estimated dispatch date shown in your basket and on your order confirmation. Please note that these dates are estimated, and whilst we always aim to meet and often exceed these dates, there will be the occasional item that is dispatched slightly later than the estimate.
Shipping Times
Shipping times are approximately 14 days to Australia and New Zealand.
Shipping Internationally is as follows:
Europe: 7-10 days
Rest of the World: 14 days
Delivery Costs
Delivery costs vary by item, but as standard to Australia are:
Games: FREE
Accessories: FREE
Consoles: FREE
Handheld Consoles: FREE
Delayed or missing items
If you have not received your item within the timeframe estimated on your dispatch confirmation, please contact us, and we will be happy to look into this for you. There can be delays caused by weather, holidays, and postal and customs backlogs. These are thankfully fairly uncommon, but please do not be alarmed if your item is a little late. On the incredibly rare occasion that an item is found to be lost, a replacement will be provided.
Please ensure that you check your delivery address before buying. We cannot be held responsible for lost items where an incorrect address has been provided.
Cancelled orders
If you need to cancel an order before it has been sent, please let us know. Note that cancelled orders due to a change of mind are subject to a 5% fee to cover Paypal fees for refunded transactions.
Returns
If you are unsatisfied with any of the items received (which we hope, due to our high standards, would never happen) please let us know within 7 days of receipt, as we can usually offer a replacement.
Please ensure that you do contact us first for a return authorisation code, as returns will not be accepted without this.