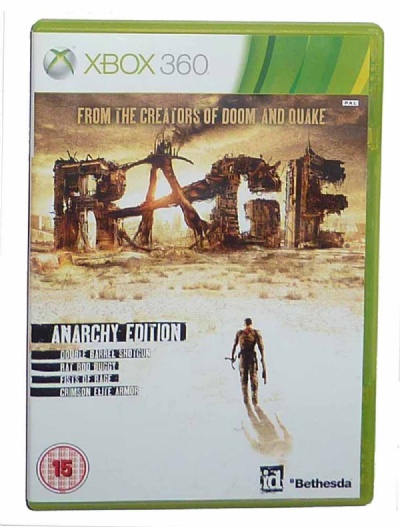 Rage - XBox 360
X360-RAGE
Rage - XBox 360
Rage is id Software's first major first-person-shooter since Doom 3, and the debut of the id Tech 5 game engine. Tech 5's major feature is use of Megatexture technology, essentially allowing for more efficient use of limited memory. As such, Rage is the first id game created predominately with consoles in mind.

Rage takes place an unspecified time after an asteroid strikes the Earth and obliterates all life. The player is a member of the "Ark Project" - a massive undertaking prior to the meteor's impact that placed valuable personnel into underground pods. The pods were meant to keep these VIPs in stasis until the impact's effects had passed, and then release their crew out to repopulate the world. The player awakens as the sole survivor of their damaged pod, and many decades after society had already started to rebuild. The player thus sets off to assist what settlements they find, and avoid The Authority - a mysterious governing force that wants to capture the player to harvest the nanites placed in their body as part of the Ark Project.

Settlements and similar playable areas are connected by an overworld called The Wasteland. The player gains access to buggy-style vehicles to traverse the wastes, and can also engage in specific races and vehicle combat. Players take missions from job boards and friendly NPCs, drive to the appropriate area, and use traditional FPS skills to dispatch any enemies and/or retrieve necessary trinkets from the enemy's lair. The player's health regenerates when not taking damage, and should the player be knocked out, they have a limited charge of defibrillators (activated through a brief minigame) to revive themselves.

Character progression is not present, and the player learns no extra skills. However, they can purchase and upgrade both vehicles and weapons. A one-time choice of armor also allows the player to pick one permanent bonus. Objects can be looted throughout the mission areas of the Wasteland, and are clearly marked as junk, useable, or crafting items in the player's inventory. Crafting can be done from anywhere, and is a simple matter of having the right recipe and the necessary parts - both of which can be bought or found. Crafted objects include lockpicks, ammo, bandages, lethal boomerangs called "Wingsticks," and more elaborate gear like sentry turrets and controllable RC bomb cars.

The player can also earn money through various minigames around the wastes. These include participating in an racing circuit, taking part in an arena battle called "Mutant Bash TV," and playing a simplified holographic board game. A collectable card game is also featured, with the player able to find new cards hidden in the wastes. The player builds a deck before each game and pits it directly against the cards of their opponent.

Rage features no traditional "deathmatch" multiplayer. Instead, competitive multiplayer takes place entirely through vehicle-based modes similar to those in the main game. Players drive armed buggies against their opponents in various racing and collection challenges. Players can rank up in multiplayer, granting access to new vehicles, weapons, and boost items. Cooperative multiplayer offers a variety of "Legends" to play online or local split-screen. These are short stories based on characters and areas from the single player game, which have no impact on the single player campaign itself.
Buy Rage - XBox 360 now from Fully Retro. Shipping to Australia and New Zealand.
| | |
| --- | --- |
| Name: | Rage - XBox 360 |
| Released: | 2011 |
| Genre: | Action |
| Format: | PAL |
| Languages: | English |
| Developer: | Reflections Interactive |
Free Shipping
Shipping is free on all games throughout Australia and New Zealand.
Destinations
All items can be shipped throughout Australia and New Zealand, and to the rest of the world. Please add items to your basket to see your delivery charge if you are outside of Australia or New Zealand.
Dispatch Times
Items are dispatched within 3 working days unless otherwise stated. Your estimated dispatch date will be shown at checkout. Some items may be in stock at our supplier and require a transfer to our dispatch centre before being sent, these will all have a later estimated dispatch date shown in your basket and on your order confirmation. Please note that these dates are estimated, and whilst we always aim to meet and often exceed these dates, there will be the occasional item that is dispatched slightly later than the estimate.
Shipping Times
Shipping times are approximately 14 days to Australia and New Zealand.
Shipping Internationally is as follows:
Europe: 7-10 days
Rest of the World: 14 days
Delivery Costs
Delivery costs vary by item, but as standard to Australia are:
Games: FREE
Accessories: FREE
Consoles: FREE
Handheld Consoles: FREE
Delayed or missing items
If you have not received your item within the timeframe estimated on your dispatch confirmation, please contact us, and we will be happy to look into this for you. There can be delays caused by weather, holidays, and postal and customs backlogs. These are thankfully fairly uncommon, but please do not be alarmed if your item is a little late. On the incredibly rare occasion that an item is found to be lost, a replacement will be provided.
Please ensure that you check your delivery address before buying. We cannot be held responsible for lost items where an incorrect address has been provided.
Returns
If you are unsatisfied with any of the items received (which we hope, due to our high standards, would never happen) please let us know within 7 days of receipt, as we can usually offer a replacement.
Please ensure that you do contact us first for a return authorisation code, as returns will not be accepted without this.