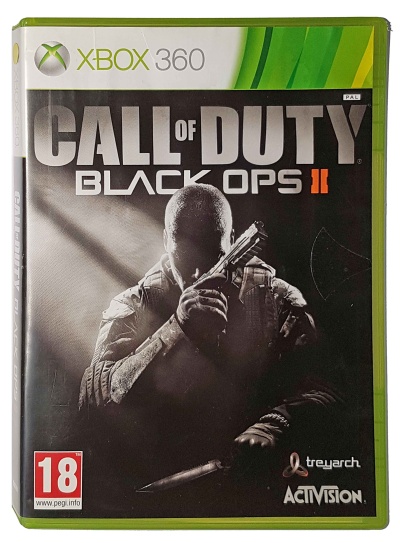 Call of Duty: Black Ops II - XBox 360
X360-CALLOBO2
Call of Duty: Black Ops II - XBox 360
Black Ops II is the ninth main title in the Call of Duty first-person shooter franchise and the sequel to Call of Duty: Black Ops. It is set primarily in the near future of 2025 with one third of the game also taking place in the late 1980s. The timelines and story are connected through the playable characters of Alex Mason and Frank Woods in the past, and David Mason — the son of Alex Mason — in the future timeline. The future missions also feature an aged Woods giving exposition for the 1980s backdrop and share the same villain, Raul Menendez, who's decades long vendetta is the primary focus of the single player campaign. The plot centers on a new cold war between China and The United States over REE (Rare Earth Elements) and its manipulation by Menendez. It has an emphasis on unmanned drones and other robotic technology — a first for the series. Another first for the series is the ability to customize multiplayer-style loadouts before each mission as well as a far less linear campaign. The player can now make choices throughout the storyline that can affect small aspects such as the appearance of NPCs all the way to major decisions that can change the ending entirely. There are new sandbox-style missions dubbed Strike Force. Playing similar to a real-time strategy game, these missions give the player the opportunity to command troops and drones from an overhead view but with the option to zoom into any one of the units, at which point the gameplay switches to standard first-person shooter controls and gameplay. Strike Force is implemented within the campaign and has repercussions on the storyline depending on how the player performs.

Multiplayer comes with familiar game modes (Deathmatch, Domination, Kill Confirmed, etc) and ranking. The loadout system has however been changed to a new ten-point system that is unlike any prior title in the series. Players are given 10 points to use on weapons, attachments, and perks, each costing 1 point. The game also introduces wildcards, players can choose up to 3, which allows players to break the rules of create-a-class by either, having three attachments on their primary weapon, two perks of the first tier, or more lethal grenades, but more points are used. The playercard, stats tracking and emblem creation from Black Ops return as well as theater mode and combat training (which is now integrated into multiplayer as a playlist). Dedicated servers return to the PC version albeit with restrictions. Players cannot host servers themselves; rather Activision hosts them and they must still be joined through the now standard matchmaking system. Killstreaks have been renamed scorestreaks as points now factor in as well as kills — encouraging less camping and more playing of the objective. New scorestreaks include lightning strikes (similar to napalm strikes and mortar strikes of the past), unmanned dragonfire drones which hunt down and kill enemy players, among others. Returning strikes include dogs, RC-XD exploding cars, and franchise standards such as the UAV and care packages.
Buy Call of Duty: Black Ops II - XBox 360 now from Fully Retro. Shipping to Australia and New Zealand.
| | |
| --- | --- |
| Name: | Call of Duty: Black Ops II - XBox 360 |
| Released: | 2012 |
| Genre: | Shooter |
| Players: | 1 to 4 |
| Ratings: | R18+ (Restricted to 18 and Over) |
| Format: | PAL |
| Languages: | English |
| Developer: | Treyarch |
| Publisher: | Activision |
Covid-19 update
We're still open for business as usual, and shipping games out to you in these difficult times. Given the global lockdowns, there are understandably delays in items being received. Whilst we have not yet revised dispatch / delivery estimates whilst we learn more about the impact that Covid-19 is having on postal services. In the meantime, we would ask that you are as patient as possible, and understand that we are doing everything we can to get your items out to you as soon as humanly possible.
Stay safe and keep gaming! :)
Free Shipping
Shipping is free on all games throughout Australia and New Zealand.
Destinations
All items can be shipped throughout Australia and New Zealand, and to the rest of the world. Please add items to your basket to see your delivery charge if you are outside of Australia or New Zealand.
Dispatch Times
Items are dispatched within 3 working days unless otherwise stated. Your estimated dispatch date will be shown at checkout. Some items may be in stock at our supplier and require a transfer to our dispatch centre before being sent, these will all have a later estimated dispatch date shown in your basket and on your order confirmation. Please note that these dates are estimated, and whilst we always aim to meet and often exceed these dates, there will be the occasional item that is dispatched slightly later than the estimate.
Shipping Times
Shipping times are approximately 14 days to Australia and New Zealand.
Shipping Internationally is as follows:
Europe: 7-10 days
Rest of the World: 14 days
Delivery Costs
Delivery costs vary by item, but as standard to Australia are:
Games: FREE
Accessories: FREE
Consoles: FREE
Handheld Consoles: FREE
Delayed or missing items
If you have not received your item within the timeframe estimated on your dispatch confirmation, please contact us, and we will be happy to look into this for you. There can be delays caused by weather, holidays, and postal and customs backlogs. These are thankfully fairly uncommon, but please do not be alarmed if your item is a little late. On the incredibly rare occasion that an item is found to be lost, a replacement will be provided.
Please ensure that you check your delivery address before buying. We cannot be held responsible for lost items where an incorrect address has been provided.
Cancelled orders
If you need to cancel an order before it has been sent, please let us know. Note that cancelled orders due to a change of mind are subject to a 5% fee to cover Paypal fees for refunded transactions.
Returns
If you are unsatisfied with any of the items received (which we hope, due to our high standards, would never happen) please let us know within 7 days of receipt, as we can usually offer a replacement.
Please ensure that you do contact us first for a return authorisation code, as returns will not be accepted without this.
Stock coming soon