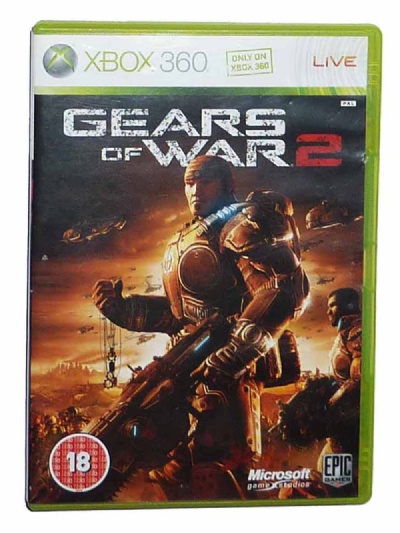 Gears of War 2 - XBox 360
X360-GEARWAR2
Gears of War 2 - XBox 360
Gears of War 2, the sequel to Gears of War, is a tactical third-person launched exclusively for the Xbox 360 as a spear point for the console's push into 2008's end-of-the-year holiday season.

The game follows up six months after the events of the first game, when the detonation of the Lightmass Bomb managed to destroy most of the invading Locust army. The explosion also affected the environment however, and a disease called rustlung threatens mankind. After a while, giant holes suddenly appear that absorb entire cities at once. When Jacinto, the impenetrable safe haven for mankind, appears to await the same fate, the COG Delta Squad with protagonist Marcus Fenix has to go underground to launch a counter-offensive against the Locust who are behind the disappearances.

Many known faces return to the game, as well as a cast of new support characters. There is a larger focus on the story, picking up on new threads and continuing old ones, with more attention to the history of the Locust and emotional encounters. Again, there are branching paths in certain levels. One of the stories further explored is Dominic Santiago's search for his lost wife Maria. The game's campaign mode takes the player through five acts with large-scale battles in different environments such as ruined cities, but also locations where ice or water is prominently present. During a few sequences there is also vehicular combat. The Reaver riding level for instance has on-rail shooter gameplay.

The gameplay is still focused on the cover system, with the addition of new finisher moves, active reload benefits, new weapons (e.g. grenades that can be turned into proximity mines) and the ability to use enemies as meat shields. Entirely new to the game is mobile cover. There are three types of covers that can be planted at difficult sections to provide extra spots next to the regular scenery. Covers can now be deformed, but not taken away completely.

Next to single-player, there is a cooperative campaign mode (split-screen or online) and each player can set a different difficulty level (based on health and damage). In the regular campaign mode, the simple controls to guide AI team mates have been removed entirely. The multiplayer portion offers fifteen maps (including remakes of existing ones). Online games offers a matchmaking system where players are matched according to their rank. Some of the new multiplayer modes are Submission (get an unfriendly AI character back to the capture point), Guardian (team deathmatch with one player is the VIP - similar to Assassination in the previous game - ; when the player is alive, the other can respawn infinitely, but - new in this mode - when he dies the other players are on their last life), Wingman (ten players are split in teams of two, both as the same character), and King of the Hill (previously only featured in the PC version of the first game).

There is a cooperative Horde mode where up to five players play together in 50 waves of the Locust horde. More camera modes are present in the multiplayer games and players can take photos of the action to upload them to the official website.
Buy Gears of War 2 - XBox 360 now from Fully Retro. Shipping to Australia and New Zealand.
| | |
| --- | --- |
| Name: | Gears of War 2 - XBox 360 |
| Released: | 2008 |
| Genre: | Shooter |
| Format: | PAL |
| Languages: | English |
| Developer: | Epic Games |
| Publisher: | Microsoft |
Covid-19 update
We're still open for business as usual, and shipping games out to you in these difficult times. Given the global lockdowns, there are understandably delays in items being received. Whilst we have not yet revised dispatch / delivery estimates whilst we learn more about the impact that Covid-19 is having on postal services. In the meantime, we would ask that you are as patient as possible, and understand that we are doing everything we can to get your items out to you as soon as humanly possible.
Stay safe and keep gaming! :)
Free Shipping
Shipping is free on all games throughout Australia and New Zealand.
Destinations
All items can be shipped throughout Australia and New Zealand, and to the rest of the world. Please add items to your basket to see your delivery charge if you are outside of Australia or New Zealand.
Dispatch Times
Items are dispatched within 3 working days unless otherwise stated. Your estimated dispatch date will be shown at checkout. Some items may be in stock at our supplier and require a transfer to our dispatch centre before being sent, these will all have a later estimated dispatch date shown in your basket and on your order confirmation. Please note that these dates are estimated, and whilst we always aim to meet and often exceed these dates, there will be the occasional item that is dispatched slightly later than the estimate.
Shipping Times
Shipping times are approximately 14 days to Australia and New Zealand.
Shipping Internationally is as follows:
Europe: 7-10 days
Rest of the World: 14 days
Delivery Costs
Delivery costs vary by item, but as standard to Australia are:
Games: FREE
Accessories: FREE
Consoles: FREE
Handheld Consoles: FREE
Delayed or missing items
If you have not received your item within the timeframe estimated on your dispatch confirmation, please contact us, and we will be happy to look into this for you. There can be delays caused by weather, holidays, and postal and customs backlogs. These are thankfully fairly uncommon, but please do not be alarmed if your item is a little late. On the incredibly rare occasion that an item is found to be lost, a replacement will be provided.
Please ensure that you check your delivery address before buying. We cannot be held responsible for lost items where an incorrect address has been provided.
Cancelled orders
If you need to cancel an order before it has been sent, please let us know. Note that cancelled orders due to a change of mind are subject to a 5% fee to cover Paypal fees for refunded transactions.
Returns
If you are unsatisfied with any of the items received (which we hope, due to our high standards, would never happen) please let us know within 7 days of receipt, as we can usually offer a replacement.
Please ensure that you do contact us first for a return authorisation code, as returns will not be accepted without this.