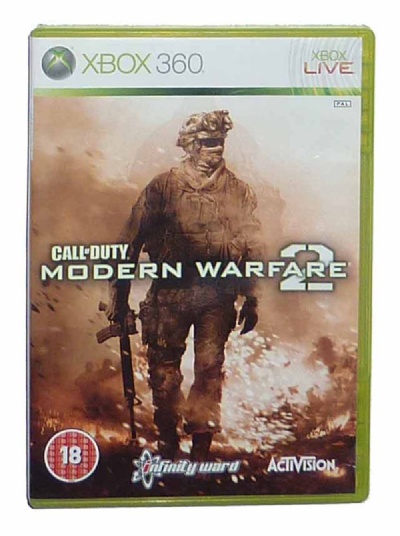 Call of Duty: Modern Warfare 2 - XBox 360
X360-CODMODW2
Call of Duty: Modern Warfare 2 - XBox 360
Call of Duty: Modern Warfare 2's single-player-campaign called "For the Record" begins five years after the events in Call of Duty 4: Modern Warfare. The world is once again at the brink of destruction. The Russians, originally defeated by the Americans, make Zhakaev a hero and threaten once again the peace on earth. Worse: they get help by a known terrorist who tries everything to let escalate the tension into a full-scale-war. In the middle: the player. During his missions he will slip into the shoes of PFC. Joseph Allen, Sgt. Gary "Roach" Sanderson who is a member of Task-Force 141 and the hero of the first game, Captain "Soap" McTavish – leader of said task-force.

As it's predecessor, Call of Duty: Modern Warfare 2 is a first-person-shooter that provides a fairly linear but heavily scripted and action-oriented single-player-experience. The missions take the player all over the world shooting, sneaking and driving through enemy lines to fulfill his various objectives like blowing up a fueling station. To fight all those hordes of ever respawning enemies, he has access to a large collection of modern-world-weaponry but can only carry two weapons plus grenades at a time.

This is also true for the multiplayer-mode of the game which again features an extensive ranking system with the players gaining experience points for killing enemies, winning a round or completing objectives. Once enough experience points have been collected, the player advances in rank and unlocks new game-modes (ranging from deathmatch to pure team-oriented modes), new dog-tags and new weapons and abilities with which he can create his own custom class besides the five standard classes available. Also available is a coop-game-mode for two players called "Spec Ops" featuring several missions going on besides the main campaign in three different difficulty-settings with several different objectives including getting from A to B in a certain amount of time. These missions can also be completed alone however.
Buy Call of Duty: Modern Warfare 2 - XBox 360 now from Fully Retro. Shipping to Australia and New Zealand.
| | |
| --- | --- |
| Name: | Call of Duty: Modern Warfare 2 - XBox 360 |
| Released: | 2009 |
| Genre: | Shooter |
| Format: | PAL |
| Languages: | English |
| Developer: | Reflections Interactive |
| Publisher: | Activision |
Covid-19 update
We're still open for business as usual, and shipping games out to you in these difficult times. Given the global lockdowns, there are understandably delays in items being received. Whilst we have not yet revised dispatch / delivery estimates whilst we learn more about the impact that Covid-19 is having on postal services. In the meantime, we would ask that you are as patient as possible, and understand that we are doing everything we can to get your items out to you as soon as humanly possible.
Stay safe and keep gaming! :)
Free Shipping
Shipping is free on all games throughout Australia and New Zealand.
Destinations
All items can be shipped throughout Australia and New Zealand, and to the rest of the world. Please add items to your basket to see your delivery charge if you are outside of Australia or New Zealand.
Dispatch Times
Items are dispatched within 3 working days unless otherwise stated. Your estimated dispatch date will be shown at checkout. Some items may be in stock at our supplier and require a transfer to our dispatch centre before being sent, these will all have a later estimated dispatch date shown in your basket and on your order confirmation. Please note that these dates are estimated, and whilst we always aim to meet and often exceed these dates, there will be the occasional item that is dispatched slightly later than the estimate.
Shipping Times
Shipping times are approximately 14 days to Australia and New Zealand.
Shipping Internationally is as follows:
Europe: 7-10 days
Rest of the World: 14 days
Delivery Costs
Delivery costs vary by item, but as standard to Australia are:
Games: FREE
Accessories: FREE
Consoles: FREE
Handheld Consoles: FREE
Delayed or missing items
If you have not received your item within the timeframe estimated on your dispatch confirmation, please contact us, and we will be happy to look into this for you. There can be delays caused by weather, holidays, and postal and customs backlogs. These are thankfully fairly uncommon, but please do not be alarmed if your item is a little late. On the incredibly rare occasion that an item is found to be lost, a replacement will be provided.
Please ensure that you check your delivery address before buying. We cannot be held responsible for lost items where an incorrect address has been provided.
Cancelled orders
If you need to cancel an order before it has been sent, please let us know. Note that cancelled orders due to a change of mind are subject to a 5% fee to cover Paypal fees for refunded transactions.
Returns
If you are unsatisfied with any of the items received (which we hope, due to our high standards, would never happen) please let us know within 7 days of receipt, as we can usually offer a replacement.
Please ensure that you do contact us first for a return authorisation code, as returns will not be accepted without this.